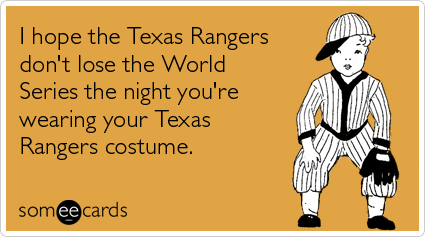 I hope everyone out there had a fabulous Halloween weekend! I spent this weekend trashing it up, celebrating an 80th birthday, watching the rangers win, planting flowers, passing out candy and watching the rangers lose. In that order.
Friday night we headed to a Halloween party at Julie's parent's house. They throw a party every year, but I believe this was the first one that had a theme: white trash. It was fairly amusing to see everyone's version of trashy. Unfortunately, I only have one picture from the whole night that our friend Tim took of me to send to my GBF:
Hard to see in this picture, but elements of my costume included:
pregnant
pink ruffle-y bra exposed
bad girl devil tattoo on left arm
giant heart and dagger tattoo on right calf
boob tattoo
cowboy boots
hickey
scrunchy
blue eye shadow
pink hoop earrings
Marlboro Reds tucked into bra
Boone's Farm chugging
It was a lot of fun. We stopped at a gas station on the way to the party to pick up the Boone's Farm and the attendant asked Alex if I was really pregnant. Frightening to think that pregnant people buying booze happens often enough to make him ask that.
Saturday was my grandmother's 80th birthday and we cooked dinner for her at my parent's house so everyone could watch the Ranger's game. She was so excited because it was the first time in her life she had ever gotten balloons for her birthday. :) It truly is the little things in life.
I spent Halloween morning replanting my urban "garden". All the decorative, non-edible stuff was starting to look really sad, so I ripped it all out and put fall/winter flowers in. Since I use the herbs
a lot
, I typically leave those in until the cold kills them.
Pansies & Cyclamen
3rd floor window box
Window box off kitchen- pansies and these new pink flowers that I've never planted before- hopefully they will be hearty enough to survive with my brown thumb.
My mint and rosemary have grown all up in each others' grills. I tried to fight it, but have given up. They used to be in the window box above but got relegated to this pot since they have a tendency to survive through the winter but not necessarily while looking good.
Front porch: white cyclamen, yellow and purple pansies.
Sunday night I headed to my parents' house to cook sloppy joes and pass out candy. Unfortunately living in a semi-urban/somewhat sketchy area means no trick-or-treaters and I'm a sucker for the age-appropriate costumed children (read: not 18 year olds or infants with no teeth being carried by candy-seeking parents). We didn't get a ton, but enough to enjoy the festivity of the holiday.
But back to the food, Sloppy Joes are a Halloween tradition for my family. My mom always made them for us before we went trick-or-treating because it was quick, easy and got something in our stomachs before all the candy. I think she was a little amused when she found out that my brother and I continued this tradition when we left home for college and beyond. So last night we sent Clint this picture:
And he sent this back:
So funny that he was miles and miles away continuing our little family tradition.
I have been seeing this recipe for homemade sloppy joes all over the interweb, so I figured it was the perfect time to try it. This is a healthier version of the canned classic thanks to the added veggies and the lack of preservatives that are in the can:
Sneaky Sloppy Joes
1/2 medium onion, quartered
1 large carrot, peeled and cut into 3 or 4 pieces
1 large red bell pepper, stem and seeds removed and halved
1/2 large zucchini, peeled and quartered
2 cloves garlic
1 lb lean ground turkey (or beef)
1 Tbsp olive oil
2 Tbsp chili powder (*Probably used 3-4 tablespoons)
1/2 tsp cumin
15 oz can crushed tomatoes
1/4 cup water
1/4 cup dark brown sugar (not packed)
2 Tbsp red wine vinegar*
A couple of dashes Tabasco
1 Tbsp Worcestershire sauce
2 Tbsp creole mustard
2 Tbsp tomato paste (*Used significantly more of this as well... next time I would use one of those small cans instead of just 2 tablespoons)
Salt
Pepper
Buns
Finely chop the onion, red bell pepper, carrot, zucchini, and garlic (in a food processor if you have one handy). You want this pretty much a pulp so you can hide it in the sloppy joes... sneaky, sneaky!
Cook ground turkey/beef in a large skillet. Strain fat away from the meat and transfer the meat to a bowl.
Add olive oil to the pan and heat over medium high. Add the vegetables and cook, stirring occasionally, for 7-10 minutes, until most of the moisture is gone and the vegetables begin to brown. Stir in the chili powder and cumin and then add the cooked meat back to the pan.
Add the crushed tomatoes, water, brown sugar, vinegar (to taste), mustard, Tabasco, and tomato paste to the pan. Reduce heat to medium and simmer for 15 minutes, stirring occasionally and seasoning with S&P to taste.
Adapted from
Ezra Pound Cake
I would cook the veggies a bit longer next time to get rid of that raw carrot taste that these still had traces of. It also needed quite a bit of doctoring while simmering, but we managed to get it tasting pretty delicious. I will definitely be keeping this one as a healthy alternative when I have some extra time on my hands.
Happy Halloween and Go Rangers!